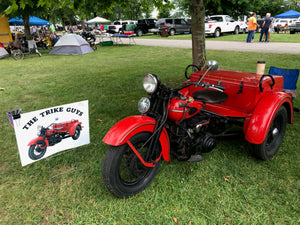 Swap Meet Success!
After being thwarted in our attempts to get to swap meets this spring, we were super excited to attend the Wauseon National Meet in Ohio a couple weeks ago.  Our first day was spent connecting with customers and friends.  It was a busy day!
We feared that Saturday would not be enough time to shop the meet ourselves.  Turned out it wasn't a problem.   We filled the truck and trailer with way more than we intended to go home with.  
It was a great trip but it only whet our appetite for more.  Hoping to make it to the Chesapeake Fall National Meet in Maryland and we're signed up to vend at the Bear Mountain Meet in NY.   Hope to see you there!
---