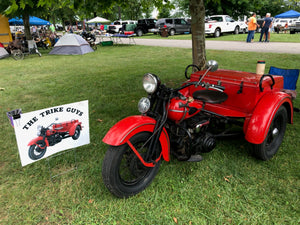 Swap Meet Season!
We're so excited Swap Meet Season is here!
Some of the meets we're making plans to attend this year...
Perkiomen National Meet in Oley, PA may not be the biggest meet but it's always packed with vendors and lots of great parts.  This is one of our favorite meets.  It's usually the first one we attend each season.  I start counting down the days till this April meet in October. :P
Wauseon is a trek for us but we've decided it's well worth the trip!  This will be our 4th year attending Wauseon.  We've met a lot of cool people and found a lot of servi-car parts to build with at Wauseon.  Not all of us look forward to the long drive but we're all excited for our time at Wauseon National Meet.
Much closer to home is a much smaller meet.  The Empire Chapter of AMCA hosts the Brookfield Antique Motorcycle Swap Meet in August.  It is a great meet to just enjoy a summer day with friends.  
A few other meets we've got our eyes on....
Waddington National looks like one that's close enough to home for us easily fit into the schedule.  Maybe by June we'll even have a new build to show off!
The Central Jersey Chapter of the AMCA is hosting a swap meet on May 21st this year.  Hoping we can squeeze in this one day event in between all the other meets and projects we're working on.  
Hope to see you at one of these events!
---