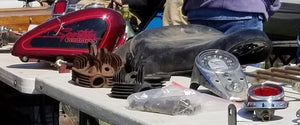 Oley Swap Meet 2021
With the pandemic restrictions finally starting to wane, we were super excited to get back to swap meets!  
We attended the Perkiomen Chapter National Meet in Oley, PA in April. The weather was good.  We found some cool stuff.  It was great to get back to meeting up in person.  We saw some old friends and met some new ones. 
We enjoy spending time around the stuff we love with other people who love it too.   Can't wait for the next one.  See you there!
---