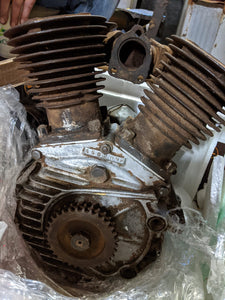 Got My Motor!
I finally got my 1945 45 servicar motor that I've been waiting for. Saying I'm excited about this is an understatement.
I was told I would never find one the same year as my dad's as they are so rare, but I'm a determined one and as fate would have it, something drew me to ebay last weekend. After a few sleepless nights not knowing if I would win it, there were no other bidders and I won this on my dad's birthday none the less! Then it arrived and my dad and I opened the box together seeing it for the first time, together. A special moment. To top it off, turns out it is #92 of its production line, that seemed familiar and when I looked at my dad's, his is # 90! These two motors, made 76 years ago were most likely made the same day and there is only 1 motor in between them. This is surreal. A moment I will never forget. We are all speechless and just can't believe it. It's unheard of to even have 1, especially one that's running, but 2? Forget it!
Now onto the fun part, building this with my dad!
Dad, we now have 2!!!! I cannot sleep!
P.s. I want to tuck it in tonight to make sure it's comfortable. Is that weird?
---