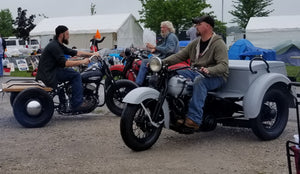 Back From Wauseon
We had a great time at the Wauseon 2021 National Meet this past weekend.  
Friday it rained all day, keeping vendors from fully opening for business and potential customers at home.  But favorable weather on Saturday brought out the crowds, a huge selection of parts for sale and, most importantly, the trikes!  
We were so excited to attend this year since the theme was 3 wheels.  We brought three trikes with us to show off in the display area. 
We brought a newly rebuilt 1966 trike for interested buyers and Ken's 1945 that goes with The Trike Guys to all the swap meets.  But the one we were all most excited about is the newest addition to The Trikes Guys collection - Karla's 1945 trike.   
This was it's first appearance in public. The mad rush to finish it in time to bring to the meet was well worth it.  It was awesome to see 2 original 1945's sitting side by side.  If you haven't already read about the extraordinary circumstances that brought this trike to life you should check it out here and here.
Seeing all the trikes displayed was awesome... but it's a swap meet!  Like many others, we went to shop and find some treasures to bring home!
We found a few things perfect for current and future builds.  We got to meet and chat with lots of folks along the way.  We went home with a full truck, new friends and tired feet.
 Till next year!
---